Kaima,Airi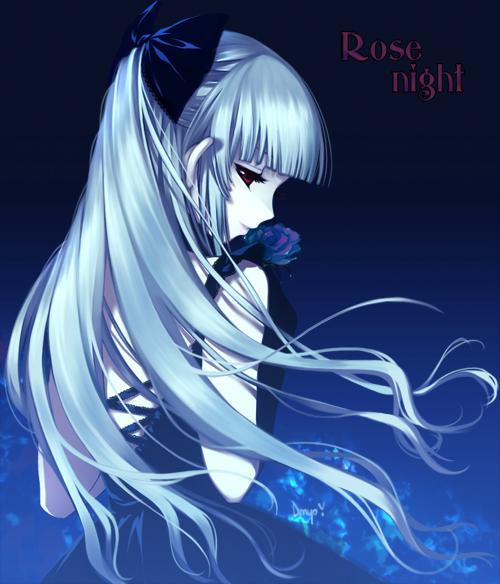 -General Information-
Name:
Airi Kaima
Nickname:
Air, Alias: Rose Night (Sometimes goes by this name)
Gender:
Female
Age:
15
Appearance/Clothing.
This girl likes to wear black often to opposite her white hair. She wears her snowy hair down most of the time, as she hates how it looks in any other style. Air's usual outfit consists of a red short Asian style shirt and ninja wrap shorts under a short red skirt that covers her shorts. She wears ninja wrapping on bother her forearms and her shins and her scratched Kazangakure headband is sewn into her skirt. Rose consistently wears a black hooded cloak over all this.
Personality:
Airi is a dark and quiet girl, who keeps to herself. Most of the time. There are many days when shes cold and sadistic, but those are the bad days. She doesn't like to talk about herself and if you go too deep, she'll snap and scream at you. Air definitely hates talking about her prison days and will never spill how she got in or escaped. She was sentanced for life, but got out in under a month. Airi is a dangerous girl, with a lust for killing, but if you have persistance and a lot of stubborn qualities, you may be able to break her and become her friend. This is rare and unheard of, as Airi has never had a friend before. This girl hates to be played, or messed with, so she treats guys worse than girls, to push them away. She threatens to kill people a lot, which apparently is a bad thing. Rose is also a slight sadist. She doesn't believe in compassion or mercy. She hates anything girly and nice, and she enjoys hearing someone beg for their lives.
Village:
Wanderer, Missing Nin
Rank:
C
Elements:
Main: Lightning, Sub: Wind
Bloodline:
Seikatsugan ("Life Eyes")
Spoiler:

Airi has a dōjutsu kekkei genkai ability similar to the Byakugan. It includes penetrating vision, disrupting eye-based kekkei genkai, and a unique chakra particle extension. She has the ability to use her vision abilities to penetrate the walls of the small shack and view the outside world and perform genjutsu that can fool even the Byakugan. This ability does not appear to have the range of the Byakugan, but it actually has the ability to counter that Hyūga trait. Airi's vision also lets her locate and track others by sensing chakra, picking up chakra from long distances, and noticing changes in an individual's chakra. It is also able to sense how many individuals are present.

Airi's vision has heightened perception and analytical powers like the Sharingan, meaning Airi can comprehend any details she sees to predict the opponent's next move. She can also see one's life force, allowing her to determine if someone was still alive. She is also able to transfer part of her own life force to anyone. When activated, Airi's eyes momentarily glow red.

(I am using Renmaru's KKG:

http://naruto.wikia.com/wiki/Ranmaru%27s_Kekkei_Genkai)
Clan:
N/A
All E ranked jutsus are already learned.Jutsu:
Spoiler:


Jutsu Name: Raiton: Kuropansa [Lightning Release: Black Panther]
Rank: B
Element: Lightning
Type: Offensive, Ninjutsu
Description: This technique creates a substantial amount of Black Lightning which takes the form of a panther-like creature that seems to emanate from the user's own body. It can be used to affect multiple victims at once by electrocuting them. Like various other Lightning Release techniques, the potency of this ability can be increased through the application of water.

Jutsu Name: Kuroi Kaminari [Black Lightning]
Rank: C
Element: Lightning
Type: Offensive, Ninjutsu
Description: Black Lightning is a unique form of Lightning Release. As the name suggests, the lightning produced by this ability's techniques is black in colour.

Jutsu Name: Raiton: Kangekiha [Lightning Release: Wave of Inspiration]
Rank: B
Element: Lightning
Type: Offensive, Ninjutsu
Description: The user generates a large amount of lightning from their hands, which can also be passed through conductive materials to improve the electrical power of the technique, to attack foes.
Jutsu Name: Raiton: Kirin
Rank: S
Element: Lightning
Type: Offensive, Ninjutsu
Description: Kirin is an extremely powerful, one-shot, lightning technique invented by Sasuke Uchiha. The user draws lightning directly from thunder clouds to supplement the power of his strike and controls it with chakra. Due to the technique using natural lightning, it is one of the most powerful lightning techniques. However, the preparation time required also decreases the technique's efficiency; if there are no active thunder clouds the user must create them by using fire techniques to produce the necessary storm conditions.
Once a lightning source has been acquired, shaping and guiding the lightning to the target requires very little chakra. In addition, usage seems to destroy the thunder clouds as the sky cleared up of clouds after use. As such, this technique can only be used once in a fight. The technique can completely annihilate a mountain.

History:
Pre-Academy AGES 0-5:
Airi was not loved when she was growing up. Between an overly abusive and drunk father and a terrible cheating and slutty mother, Airi was an accident and didn't receive any real parenting. The girl practically raised herself from small examples of her mother and father.
Air always had bruises and cuts on her body from her father's abuse(He was scared of her doujutsu), though she always tried to conceal it. She was raised in extreme poverty and often wore the same clothes over and over. Her mother never came home one night and her father left the day after. Airi was left alone at age four to fend for herself.
The little girl packed her very few belongings and wandered the streets of Kazangakure until she was picked up by a teacher at the village's ninja academy. That had been the happiest month of her life before the woman went to battle and was killed in action. Airi then entered the academy at age five and had to deal with the insulting children.
Academy AGES 5-13:
The little girl had many troubles in the academy and was often picked on. She couldn't do any of the jutsu the first or second or even third try and failed the Genin Exams twice before finally trying really hard and learning her jutsu and passing the third time.
Soon after Airi passed the exam she went after the person who killed her adoptive mother and massacred their children in their sleep and their wife and left them alone to feel the agony. She then crept out of the house and went back home. That next morning, the police easily found out it was her because she left an object there by mistake and she was sent to Keimushogakure to the court and then to jail.
Once in jail, Airi quickly came up with her new name and went by it just in case. Her new name was Rose Night. Rose escaped from prison after only a month from being there by starting a prison riot and sneaking out during the fuss since she was so small. She broke her ankle badly on the way out and the injury still haunts her.
Genin AGES 14-Present:
Once Rose was finally on the road, she walked around from town to town, from major village to minor village. Finally, at age 14, Rose met Ryokubo and they started to travel together, though they fought an awful lot and almost never got along. Rose enjoyed someone's company, though she would never admit it.
Extras:
Main: Bloodline Limit
Main: Insanely fast
Sub: Impressive Persuasion
Flaws:
Main: Huge injury from escaping prison in her left heel that acts up often and throbs horribly, causing a major distraction
Main: Intense fear of drowning, to point of freezing up and almost fainting when she is underwater. (Which would drown her XD Can you say: Ironic?)
Sub: Slight Sadist
Role Play Sample:
Spoiler:

(This is Ly

)
Last edited by Mayu on Wed Nov 16, 2011 5:43 pm; edited 3 times in total (Reason for editing : Coding Fail >.<)